Vilnius is Learning from Cities of Learning
Badgecraft team
info@badgecraft.eu
Vilnius (Lithuania) - a City of Learning...We believe Vilnius is ready to use the potential of technology and get together all the learning spaces in one place. This would provide more opportunities for young people to get involved and recognised for their achievements.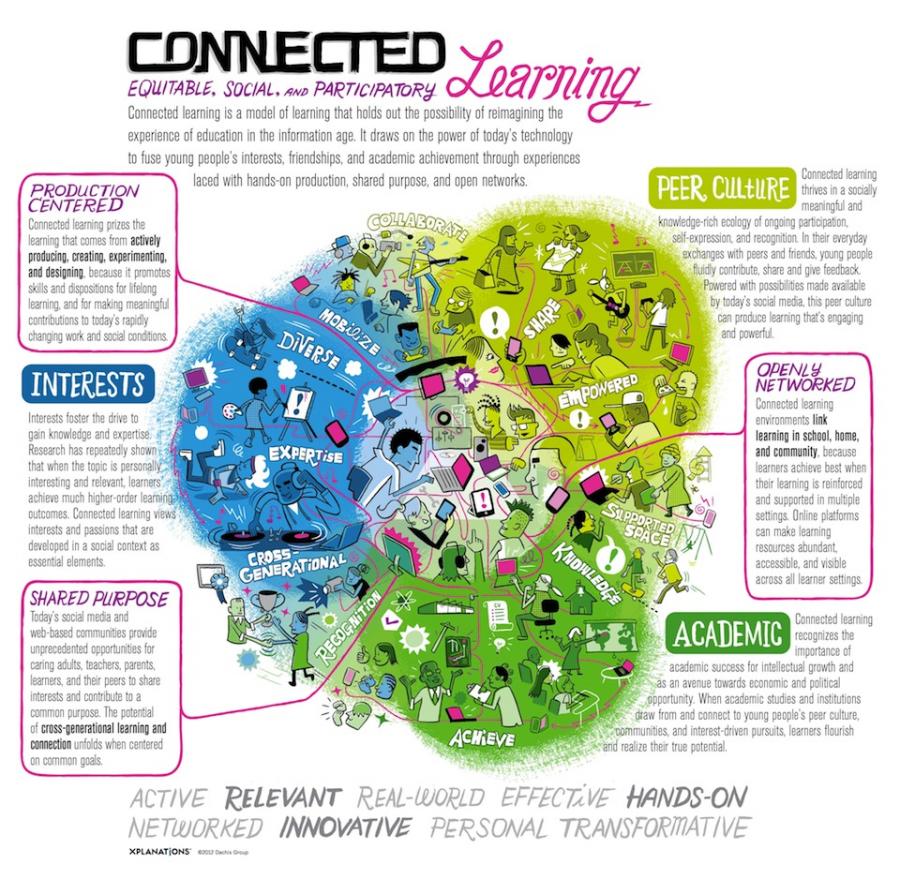 Credit: Connected Learning Research Network and Digital Media & Learning Research Hub
In the past years we have been following the rise of Cities of Learning on the other coast of Atlantic Ocean. Vilnius as a city is creating a strong brand as a perfect spot for investment and new enterprises to thrive. Recent developments in Smart Vilnius projects brought the experience of being connected to a totally another level. Yet we believe there is another opportunity to take advantage of digital era to those who strive for a need to discover and learn.
There are several important players that actually do a decent job in their field:
educational institutions - that mainly take care of the quality of education for their students and academic communities and provide opportunities for a closed circle of people.

private business - that nowadays is looking for more ways to contribute to the society not only by creating products and services but building better conditions.

culture, entertainment, history, leisure, sports, recreation industries - that has definitely something to suggest or their every-day activities is pure experience of learning and discovery.

young people - who are willing to explore and discover talents, hobbies, professions, cultures and many more beyond the classroom walls.
Vilnius municipality is taking action to deal with the current youth participation situation. Vilnius Youth policy analysis states, that 37% of young people are not involved in non-formal education activities. Students beating the rate by 81%. This is a crucial moment to look for more ways, how those young people can find their passions, level up their abilities and get connected to spaces that matters.
US counts on economical loss for kids and young people having spent their summers for not learning. Chicago summer of Learning in the summer of 2013 introduced the possibilities for young people to join various free and affordable activities and gain new skills in science, technology, engineering, art and math (STEAM) in non-formal or informal way. All their achievements were recognised with Open digital badges as an integral part of technology based learning. Programme networked with more than 100 organizations and served more than 100,000 young people. After this initial success Chicago evolved into the City of Learning that now promotes various learning all year round. Last year this initiative expanded to Columbus, Dallas, Los Angeles, Pittsburgh, and Washington, DC! '2 Million of Better Futures' was another initiative launched with an ambitious goal to recognise achievements of 2 million of young people. Now this initiatives aims at 10 Million Better Futures.
Is this only an American dream? Badgecraft team has this dream of connected community, spirit of learning and thousands of better futures of young people in Vilnius! In 2016 Vilnius municipality launched an online platform to make it a place for non-formal education providers and learner to meet and connect. So far this project comes in terms of a temporary educational reform, where each school kid has a right to choose their extracurricular activity from accredited list of providers.
What if we could find a way to involve those, who can't find their passion and interest in this list... What if we could provide unlimited opportunities to young people who are out of educational system and striving for other means of learning? Imagine a city, where all the potential institutions are connected directly with their potential learners.
"Connected Learning is when you're pursuing expertise around something you care deeply about, and you're supported by friends and institutions who share this common passion that is tuned to the demands and opportunities of the digital age." (Connected Learning Alliance)
Please have a look at the video that explains the idea of Connected Learning initiative:
We believe that Vilnius has much more potential to offer Connected Learning possibilities. Just imagine a young kid, who is passionate about table card games, he is learning and exploring about it online and while playing with friends. But this kind of learning can happen in a game store, where you can actually come and try out the newest games and meet the peer learners. What if you meet your peers there and start a start-up too? Online tools nowadays can connect both sides - the young person and the organisation (whether it is public or private entity). Open digital badges as a digital certificate of achievement can be issued by any organisation to recognise the learning that happens within an activity. So from now on, the learning experience could mean something for the other stakeholders as well - one can show learning outcomes, memberships, participation and mastery in something with digital micro-credentials.
All the city… Museums, theatres, workshops, schools, universities, animators, trainers, clubs, shops, business, municipality, open youth centres, libraries, cinema, online courses, street musicians, cafes, recording studios… unlimited list of spaces to learn across the city. Most of them are free or could be at affordable price. Let's connect them all together and create new and innovative Vilnius - a City of Learning!
The infrastructure is there (most of the possibilities already exist!). We just need to encourage partnership between all those stakeholders - parents, youngsters and institutions/services. Some of them maybe have not recognised themselves yet. Maybe they do not know what learning opportunities they are actually creating. Let's help them to do it! One online platform could connect them all. We could start with a summertime period providing opportunities to learn when "learning is officially closed".
The campaign should meet the main design and learning principles of Connected Learning. The activities provided should be interested-based, peer-supported and academically oriented. The system should be openly networked, production-oriented and share a purpose.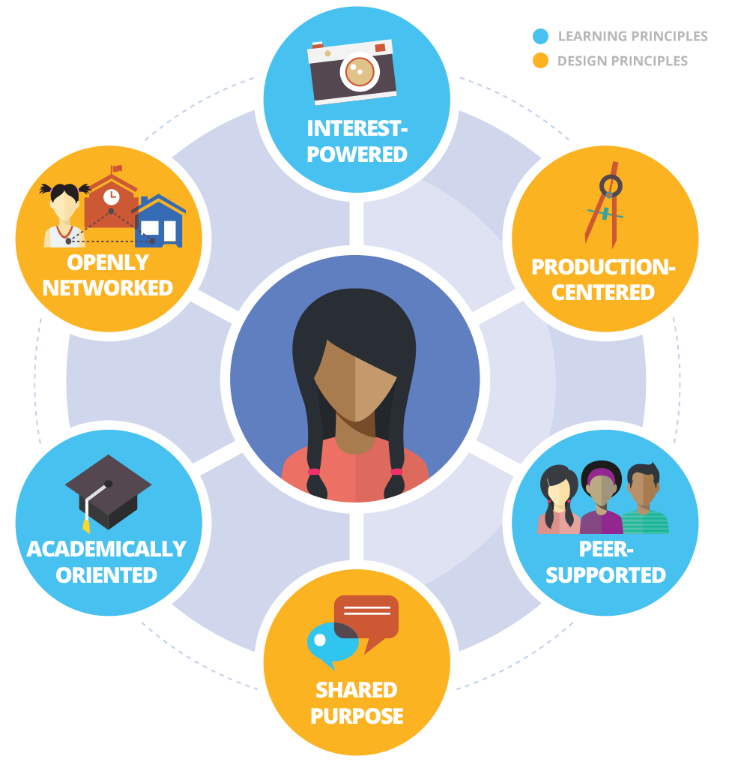 Credit: Image (screenshot) taken from Connected Learning Alliance website
Who could benefit from this idea?
A. YOUNG PEOPLE. The connected experience would open recognition for their achievements and career opportunities. For the very basis - young people could put their interest into practice and level up in it. It is a chance to meet their peers and get better at something meaningful for them.
B. BUSINESS. It is chance to find talents. This is an opportunity to close the gap between theory and practice by discovering what students can perform outside formal studies. The connected learning opportunities would help to gain skills and knowledge in various means and young employees will be able to show what one has gained and what she or he can actually perform. It is an opportunity for the companies to improve their image by contributing to better societies and better future.
C. MUNICIPALITY. As having an aim of building an attractive city where their citizens are satisfied, it is time to encourage a learning culture. Supporting learning of those, who cannot afford summer camps will show their care of every single young person in the city. It would provide a solution to the youth policy and solve many challenges for youth involvement and participation. For this reason, municipality should continue networking activities among all stakeholders and openly support initiatives for learning.
D. FORMAL EDUCATION. This is a space where things like science, mathematics, IT and many more can be promoted in a practical way. This is a space where young people can get practical skills to be better at an academic subject. This is an opportunity where young people can fall in love with learning as process and at the same time become better learners at school and universities.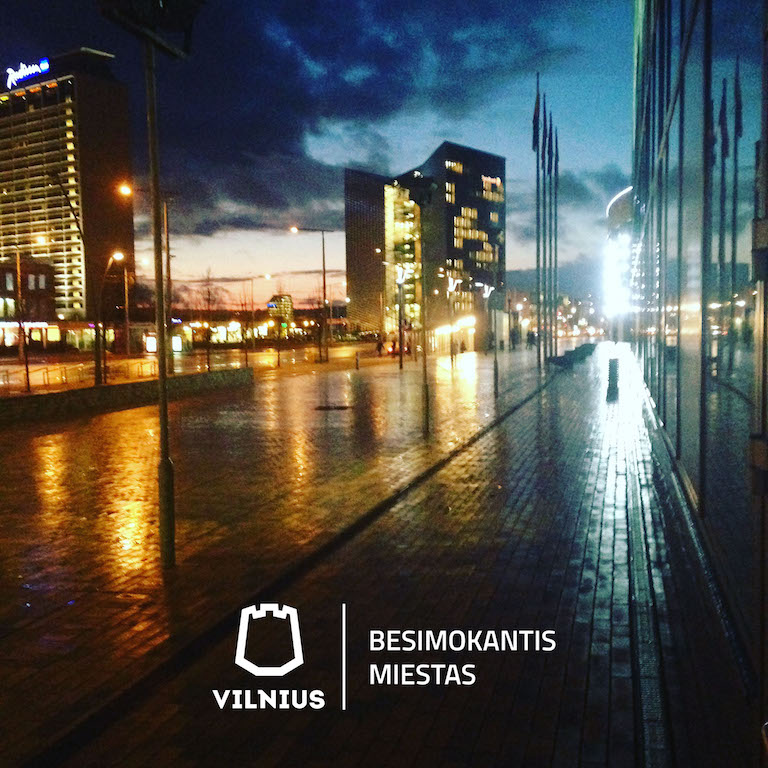 There is a growing potential in our capital city Vilnius for young people. So shall we join the initiative to develop Vilnius into a City of Learning….?
Are you interested in continuing discussions about it? Contact us and let's learn from the cities of Learning together.