Understand badge metadata
Open digital badges capture essential information about learning and achievements by storing this metadata inside the badge image. If made public, this information can be accessed and viewed by anyone. Verified issuing organisation and attached evidence by badge earner improve credibility of badges.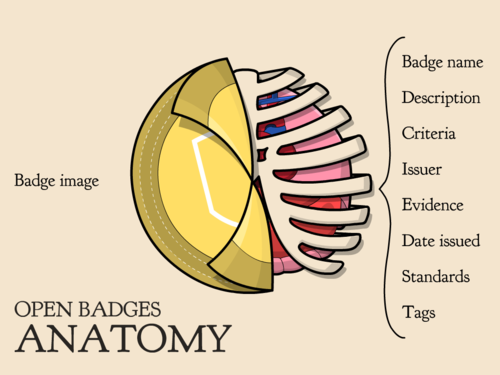 Open Badges standard specifies the required and optional information to be included in the badge image metadata:
Required: Badge name, description and criteria

Optional: Evidence, standards, tags
Badge issuer ID, badge earner ID and badge issuing time is added during the badge issuing moment.
Badge earner is identified through an email address.

Badge name recalls the content of a skill or achievement in few words.

Description provides with the details of achievement: describes the context, specifies the achievement, refers to completed tasks, explains the assessment procedures. How to write a good badge description?

Criteria tells about the tasks set by badge issuer and completed by badge earner to qualify for specific badge.

Issuer maybe an organisation, company, institution or private person that issues a badge to recognise learning and achievements.

Evidence is an optional but very much encouraged data to enrich and backup the claim for specific achievement. It can be of variety of formats: text input, file upload, image, video, badge code or even another badge.
Open digital badges can have other extensions, such as standard, endorsement, that will be added on Badgecraft platform in the future.